VK Sasikala ko hui Char saal ki Jail VK Sasikala corruption charges full news in Hindi
VK sasikala got in trouble after The Honorable supreme court's verdict on corruption charges against her. Supreme court found sasikala guilty in corruption charges and ordered 4 years jail for her. Here i am going to all the latest news related to V K Sasikala in hindi.Like Sasikala Corruption Charges in hindi, Sasikala life story in Hindi, VK Sasikala Cm Banegi ya nahi, Sasikala ko jail q hui, Sasikala pe brastachar arop news in Hindi.
सुप्रीम कोर्ट ने 86 करोड के आय से अधिक संपाति के मामले मे ससिकला को 4 साल की सज़ा सुनाई है मालूम हो तो तमिलनाडु मे अम्मा यानी की जयललिता की मौत के बाद से ही सत्ता मे खिच तां चल रहा था. मुख्यमंत्री पन्निसेलम के इस्तीफ़े के बाद ये सॉफ था की ससिकला ही अगली मुख्यमंत्री बनेगी. पर अचानक फिर स्तिति खराब हो गई जब पूर्ब् मुख्यमंत्री ने कहा की उनको दवाब मे आकर इस्तीफ़ा देना पड़ा है उसके बाद से ही खिच तान शुरू हो गया. आज जब की लग ही रहा था की राज्यपाल की राय से ये फ़िर बहुमत से तमिलनाडु का नया मुख्यमंत्री का चेहरा सामने आ जाएगा. पर अचानक सुप्रीम कोर्ट के फ़ैसले से कहानी मे न्या मोड़ अगया है. अब देखना होगा की ससिकला के बाद कों बंटा है तमिलनाडु का सी यम.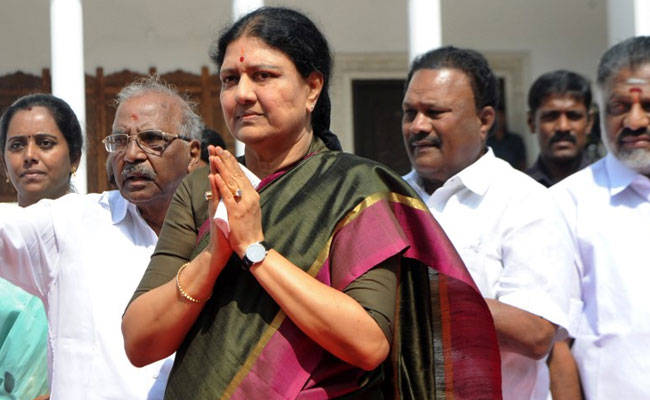 Related
About The Author
sneha