J&K CM Mufti Mohhamad Died today Latest News in Hindi Mufti Sayeed ji ka Dehant Full News Images
|
Chief Minister of Jammu and Kashmir Has Died Today on 7th Jan 2016. CM Mufti Mohhamad Sayeed was admitted in AIIMS from 24th Dec 2015 and he was critically ill. He was admitted in the special care center of AIIMS delhi.Education minister and spokesman of his govt said that Today at around 7:30am he took his last breath. Sayeed is survived by his wife PDP President Mehbooba Mufti, two more daughter and one son. His body will be kept in srinagar for the people for the last glimpse of their leader. His daughter Mehbooba is the logical choice to be the next CM of J&K said a BJP Source. Here i am going to share each and every thing related to CM Mufdi death News and Thoughts of Mufti Sayeed and Mufti Sayeed's Images.
Jammu and Kashmir(J&K) ke CM Mufti Mohhamad ka Dehant/Death News in Hindi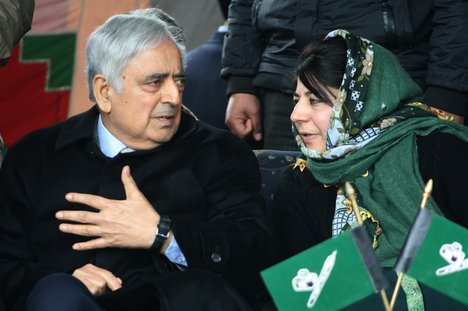 जम्मू व कश्मीर के मुख्यमंत्री मुफ़्ती मोह्हमद सयीद का आज तकरीबन 7:30 बजे दिल्ली के एम्स अस्पताल मे देहांत हो गया है. मुफ़्ती को 24 दिसंबर को गले मे दर्द को बुखार की शिकायत के साथ एम्स मे भारती कराया गया था उसके बाद से उनको एम्स के स्पेशल विभाग मे रखा गया था तथा लगातार उनका इलाज चल रहा था. परंतु आज 7:30 बजे मुफ़्ती जी ने अपनी आख़िरी साँसे ली.
मुफ़्ती मोमाद जी का शव सृिनगर ले जया जाएगा जहाँ अंतिम क्रिया से से पहले उनके प्रशंसको को अंतिम दर्शन कराए जाएँगे. भाजपा की सूत्रो के अनुसार अब उनकी बेटी महबूबा ही अगली मुख्यमंत्री पद के योगया है. परन्तु अभी इस बात पे चर्चा नही की गई है.
Here i am going to share some latest Images and CM Mufti Mohhamad Family pics with you.