Blast in Naya Bazar Chandni Chowk Bomb Blast 2016 Latest News in Hindi
|
One Died and 5 injured in the Blast in Naya Bazar, Chandani Chowk on 25th Oct 2016. As per the reports around 11 am a person carrying fireworks in his bag died due to the blast in his bag in Naya Bazar Area of Chandni Chowk. Chandni Chowk is one of the most crowded market in New Delhi. Every day more than Lakh people visit or shop at Chandni Chowk. AS the fire caught is a Jute bag full of Fireworks it could a bigger accident. In the primary investigation police found that the reason of Blast in Chandni Chowk was Fireworks not any bomb. Here i am going to share all the information and latest Updates on Chandni Chowk Blast 2016 in Hindi for you.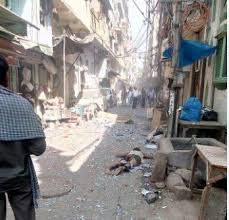 Chandni Chowk Blast News in Hindi Naya Bazar Bomb Blast News
25 अक्तूबर 2016 की सुबह 11 बजे चाँदनी चौक के नया बाज़ार मे अचानक एक जुटे के थैले मे धमाका हो गया. जिसकी चपेट मे आके एक व्यक्ति की जान चली गई है हालाँकि ज़्यादा हताहत की खबर नही है. परतू जिस वयक्ति की जान गई है उसकी अभी पहचान नही हो पाई है. खबर के अनुसार हादसे मे मारा गया व्यक्ति जुट के थैले मे कुछ आतीश्वादी या पाठाके ले जा रहा था जिनमे अचानक आग लग जाने से विस्फोट हुआ ओर उस वयक्ति की मृतु हो गई. दिल्ली पुलिस के आला अधिकारियों के अनुसार जाँच अभी जारी है न मियर्त व्यक्ति की पहचान भी की जा रही है.