1000 Run in one Inning Meet Pranav Dhanavade Age/Background/Family Photos
|
Yes we have the Record to score 1009 Runs in one inning and the record made by Pranav Dhanavade A Student Cricket Player who is playing for Mumbai School Cricket. Mumbai School Cricket has a very tough competition as it has given us many masterpiece of cricket world and one of the is Sachin Tendulkar.AFter this record every one is want to know that who is Pranav Dhanavade? Pranav Dhanavade kon hai? Pranav Dhanavade's Family background. Than Here i am going to share each and every details related to Pranav Dhanavade age,study, photos, Record, and much more in Pranav Dhanavade's Biography in Hindi as well as in English.
Pranav Dhanavade's Biography/Full Details :-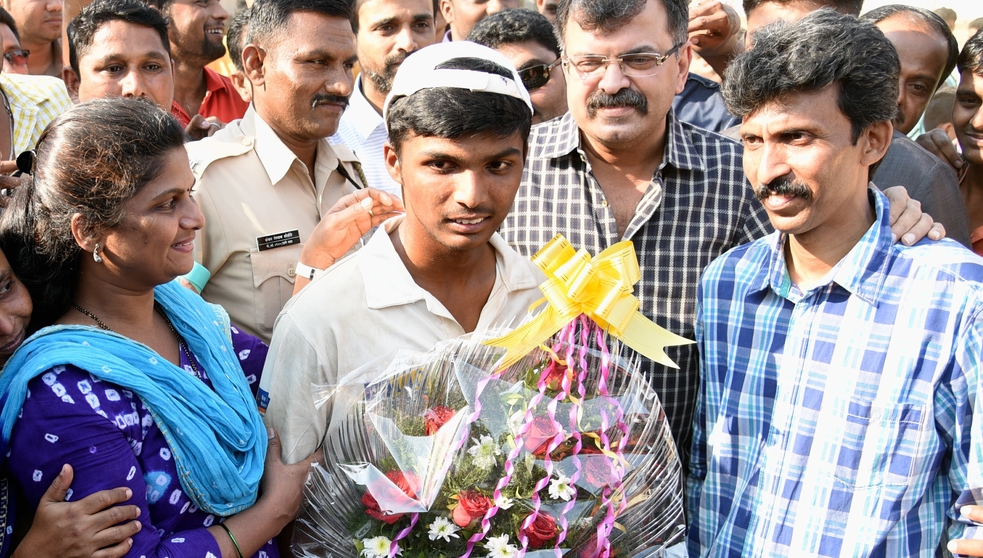 Full Name:- Pranav Dhanawade
Born:- Maharashtra
Age:- 15 years
Name of School:- KC Gandhi School, Kalyan, Mumbai
Parent:- Prashant and Munni
Pranav Dhanavade Family Background:- Pranav Dhanavade is 15 years old school boy who made the record to make 1000 runs in one inning. His Father Prashant Dhanavade is an Auto Driver and his mother munni is running a small catering Business. He doesn't belong to a rich family but he has rich abilities. Pranav got blessings from Master Blaster Sachin Tendulkar and other big names also.
1000 Run Banane Wale Paranav Dhanavade ki Kahani in Hindi:-
प्रणव धानवाड़े मुंबई के एक स्कूल के. सी गाँधी स्च्होल के लिए क्रिकेट खेलते वक़्त 1000 रन्स बनाने वाला पहला व्यक्ति बन गया है उसकी जहाँ बड़े बड़े नाम जैसे सचिन तेंदुलकर प्रसंशा कर रहे है. वहीं लोगो मे ये उत्सुकता व है की की परणव कौन है ? प्रणव का परिवार क्या कर्ट अहैइ. तो यहाँ मई आपसे प्रणव से जुड़ी बहुत सी बाते साझा करने जा रही न.
प्रणव के पिता प्रशांत एक साधारण ऑटो चालक है तथा माता मुन्नी भी एक छोटा सा केटरिंग का काम करती है. प्रणव के पिता की क्रिकेट मे रूचि थी पर परिवारिक ज़िम्मेदारियों के कारण वो इस क्षेत्र मे बहुत कुछ नही कर पाए परंतु बेटे ने पिता के सपनो को पर लगा दिए . प्रणव विश्व स्तर पर खेलना चाहते है पर अवी वो अंडर 19 टीम की तैयारी मे है.