Dubai Fire on 31st Dec Night Dubai Hotel Hadsa Full News in Hindi
|
Here a Bad News came from Dubai. A hotel near Burz Khalifa got catch Fire on 31st Eve Party on 31st Dec 2015 midnight. Here i am going to share all the details related to Dubai Me aag,Dubai ke Hotel me aag kaise lagi and some more pics and Images of Fire in Dubai Hotel on new year evening. Happy New Year Eve pe dubai me lagi aag ki latest pic, 31st Dec 2015 ko Lagi Dubai me aag Latest News.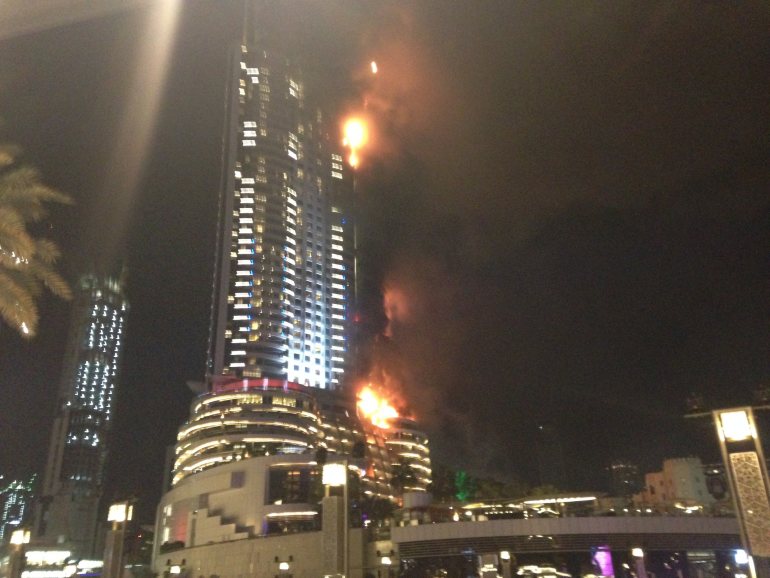 UAE, Dubai ke Hotel me lagi Aag Full News in Hindi:-
ताज़ा खबरो के अनुसार दुबई मे बुर्ज़ खलीफा के पास ही एक होटल मे आग लग गई. इस आग मे किसी के जान जाने की या किसी हताहत की कोई खबर नही. चश्मादितो की माने आग बहुत भयानक रूप से एक क बाद एक कई मंज़िलो पे लग गई थी .  नववर्ष के मौके पे चलाई जा रही आतीशवाजियों के कारण एक रेस्तराँ मे आग लग गई उसके बाद आग होटल तक पहुच गयी. कश्मीर के पूर्व मुखमंत्री उमर अब्दुल्ला व उसी होटल मे मौजूद थे. उन्होने दुबई के होटल मे आग लगने की सूचना ट्विटर के मध्यम से दी.