Ardh Kumbh Mela 2016 Full Details Holy Bath Dates Ardh Kumbh Mela 2016 Haridwar Details in Hindi
|
Ardh Kumbh Mela will be celebrated from 12th Jan 2016 to Apr 2016. Ardh Kumbh Mela will take place in Har ki Pauri Haridwar. Ardh Kumbh is one of the holy and sacred festival celebrated in India , the festival is very popular in all around the world. Here i am going to tell you each and every thing related to Adrh Kumbh Mela 2016 which will be held in Hari ki pauri Haridwar, Uttarakhand. Scroll Down to read more on Ardh Kumbh Mela 2016 Full Details in Hindi such as Ardh Kumbh Mela 2016 Shahi Snan, Holy Bath Mahurat for Ardh Kumbh Mela 2016.Here i am sharing Pics of Naga Sadhu In Ardh Kumbh mela Haridwar.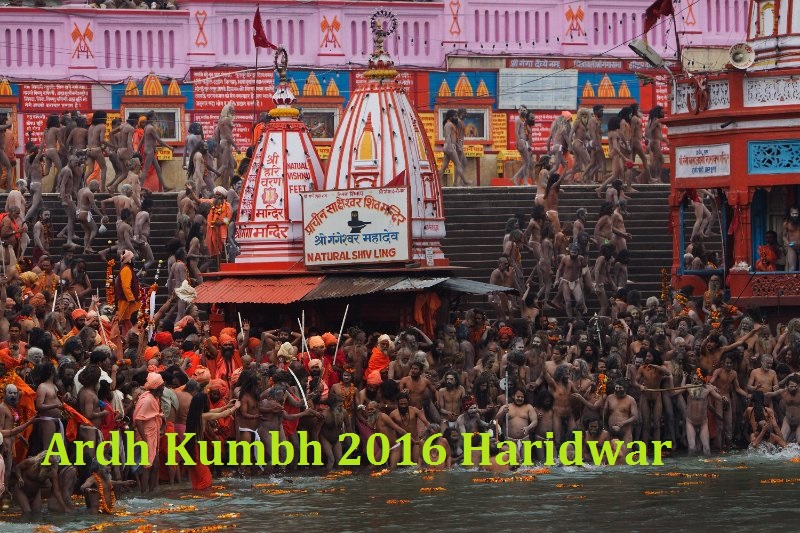 Ardh Kumbh Mela 2016 Haridwar Full Details in Hindi.
हरी की पौरी हरिद्वार मे 12 Jan 2016 से अर्ध कुंभ मेला का आयोजन किया गया है. अर्ध कुंभ मेला एक बहुत ही माशुर हिंदू मेला है जो की देश विदेश मे प्रसिद्ध है. ऐसा माना जाता है की यति आप अर्धकुंभ मेले के दौरान गंगा के पवित्र जल मे स्नान करते है तो बहुत शुभ माना जाता है. परतू अवी आप ये सर्च कर रहे होंगे की अर्ध कुंभ मेले मे पवितरा स्नान का शुभ महुरत कब है? तो अब मई आपके साथ अर्ध कुंभ मेला शाही स्नान 2016 की तारीख साझा कर रही न. आघर अर्ध कुंभ मेले से जुड़ी कोई ओर जानकारी आप खोज रहे हो तो आप हमारे कॉमेंट बॉक्स मे अपना सवाल लिखे हम आपको जवाब दे देंगे.
Ardh Kumbh 2016 Holy Bath(Shahi Snan) Dates:-
14th Jan 2016- Makar Sankranti
8th Feb 2016:- Somvati Amavasya
12th feb 2016:- Vasant Panchami
22nd Feb 2016:- Magh Purnima
7th March 2016;- Mahashivratri
7th Apr 2016:- Chaitra Amavasya
8th Apr 2016:- Chaitra Shukla Pratipata
14th Apr 2016:- Mesha Sankranti
15th Apr:- Ram Navmi
22nd Apr 2016:- Chaitra Shukla Purnima