Bhukamp Latest News of 28th April 2015 In Nepal 4500 People Dead in Nepal
|
Today on 28th April 2015, again Nepali People and north east Indian (Bihar,UP,Jharkhand,West Bengal,Rajasthan,Delhi,Haryana,Punjab)  feel a earthquake tremors two times. On early Tuesday (28-04-2015) in Nepal Bhukamp came two times,first Bhukamp tremor was at 04:10 am and 2nd was at 05:05 am. Now by latest news total no of dead people in Nepal due to Earthquake Bhukamp is about 4500 and injured people more than 8000. On 25th April 2015 Earthquake center was in Nepal. Earthquake magnitude was from 7.5 to 7.9 on Richter scale. There are lots of buildings,houses destructed by this earthquake. Earthquake was so powerful in Nepal (Kathmandu). In Kathmandu many buildings collapsed and famous Dharahara tower also collapsed. Lots of people dead in Nepal due to today's earthquake. In India around 100 people dead and mostly from Bihar. we all also feel strong tremors. Due to this tremors in Bihar and UP some people die and insured also. Here i am going to share some Earthquake destruction images of Nepal Kathmandu. 
By seeing this image you can imagine the
power of earthquake in Nepal
.
Earthquake Locations – Nepal and North East India
Timing and Date – at 04:10 am and 05:05 am on 28th April 2015 (Tuesday)
Instrument to Measure Earthquake – Richter Scale
Earthquake in Nepal Image Wallpaper Injured Man
Earthquake Effect In Kathmandu Nepal Photo Wallpaper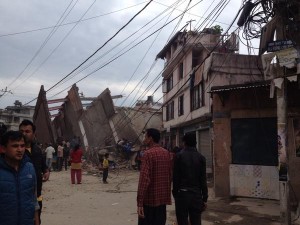 Due to Earthquake Building Destroyed in Nepal
Earthquake In Siliguri West Bengal Building Pic
Latest Photo of Nepal Kathmandu Earthquake 
Nepal Powerful Earthquake Crack in Road Scene