Sir Jadeja Engagement Images Ravindra Jadeja's Wife Pics/Name/Age Full Details
|
One more wicket of Indian Cricket team gone. Yes one more handsome boy of Indian Cricket team got engaged under moon light. Ravendra Jadeja got engaged on 5th Feb 2016. Ravindra Jadeja Fans are searching about her wife as such who is Ravindra Jadeja's Wife, Sir Jadeja kI Wife ki Qualification, Sir Jadeja ki wife Riva Solanki ki age so here i am going to share all the information related to Ravindra Jadeja Marriage and his wife.
Sir Jadeja With his Wife Riva Solanki Images/Engagement Pics of Ravindra Jadeja And Riva Solanki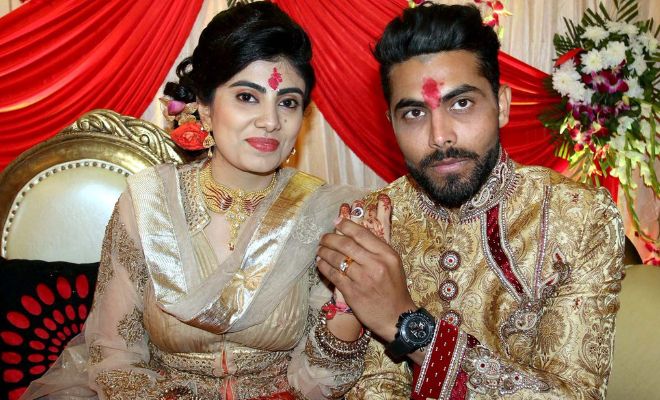 Ravindra Jadeja's Wife Rivaba Solanki Wikipedia Age Full Details
Name:- Rivaba Solanki
Spouse:- Ravindra Jadeja
Qualification:- Mechanical engineering
Age:-
Father:- Hardev Singh Solanki
Here i am sharing Ravindra Jadeja Wife Images in HD with you. You can also see Ravindra Jadeja's Family pic with unki hone wife. Ravindra Jadeja got engaged with his lady love Rivaba Solanki on 5th Feb 2016 in his own Restaurant in presence of some the very selected guest. He has shared his engagement pics with media and his fans.