Sharad Navratri 2020 Dates Starting of Sharad Navratri Shubh Mahurat/Kalash Sthapana Puja Vidhi
As we all know Festive season has already stared and we are all set to welcome Navratri 2020 which is also Known as Sharad Navratri or Durga Puja in Eastern Part of India. Navratri a 9 days long festival celbration starts with the Very First day which is known as Kalash Sthapana or Sthapana and ends with Dushera. So here i am going to share all the ionformation related to
Sharad Navratri 2020 such as Sharad Navratri Dates 2020, Navratri Puja Vidhi, Durga Puja Kalash Stapana Vidhi, Navratri 2020 Kalash sthapana Shubh Mahurat, Navratri Kalash sthapana Vidhi in hindi, Navratri 2020 Colors, Oct Navratri Colors day wise.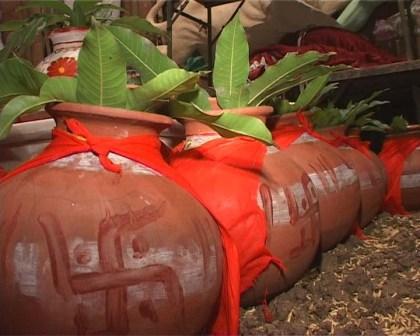 Sharad Navratri 2020 Dates with Puja Name with Navratri Colors Oct 2020:-
Date

Name of Puja

Navratri Colours

17

thOct 2020
Ghat Sthapana/ Kalash Sthapana/ Maa Shailputri Puja
Yellow
18th Oct 2020
Maa Brahmacharini Puja
Green
19th Oct 2020
Maa Chandra Ghanta Puja/ Sindoor Tritiya
Light Brown
20th Oct 2020
Kushmanda Puja/Vrat Vinayak Chauth
Orange
21st Oct 2020
Skandmata Puja
White
22nd Oct 2020
Saraswati Ahwahan/ Katyayni Puja

Red

23rd Oct 2020
Kalratri Puja
Blue
24th Oct 2020
Saraswati Puja/ Mahagauri Puja/Durga Ashthmi/Sandhi Puja
Pink 
25th Oct 2020
Maha Navami/Ayudha Puja/ Navami Homa
Purple

26

th Oct 2020
Durga Visharjan/Navratri Parana/ Vijyadashmi
I hope you liked the information on Sep-Oct Navratri 2020 Dates, Durga Puja Dates, Durga Pooja Colors Oct 2020, Navratri 2020 Day wise Colours, Durga Puja kis din kon sa rang pehne details 2016, October Navratri Calender 2020. All you are suggested to keep in touch with us as we are soon going to update Navratri Maa durga Aarti, Best Navratri Songs and many other exiting things related to Navratri 2020.